'Live Laugh Love' Poster features the quote written in bold type over a floral background. The lettering is intertwined around the bright orange flowers from the background creating an elegant floral typography effect.
The poster is available for free download as high quality squarish 800×800 px JPG image with watermark. You can also purchase the license to get access to source PSD file along with the JPG image without watermark. Ideal for sharing on your social media channels especially Instagram and Pinterest or sending to your close ones.
Features
Format: JPG & PSD
Dimension: 800×800 px
Resolution: 72 PPI
Floral Typography
Editable smart filters in PSD file
Compatibility
JPG files are common image formats that are widely supported in all kinds of image editing software, including Photoshop, Illustrator, Affinity, and online picture editors.
On purchasing the premium license, you get access to its source Photoshop PSD file which enables you to see the layer structure in Adobe Photoshop. You can edit the smart filters, shadows, layer styles and remove watermark using the PSD file.
Preview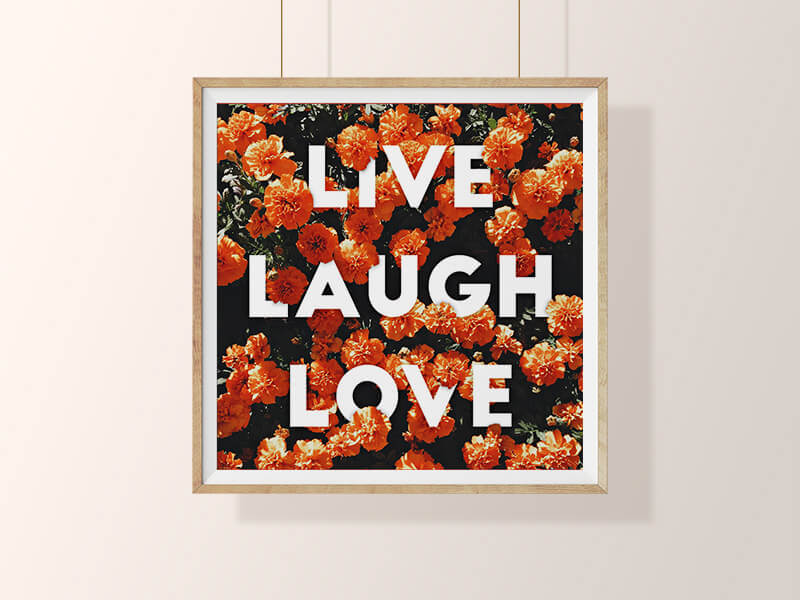 Preview of the poster mocked-up inside a hanging frame
Layers and editable Smart Filters in the PSD File
Credits
The poster uses free font Big John by Ion Lucin – a bold, display typeface and bright orange flowers by Alex Harvey from Unsplash. The preview image of poster mockup is created using mockup from Free Mockup Zone.