Flat Colorful Space Background
Inspired by the flat style design aesthetics, Flat Colorful Space Background illustrates an other-wordly space scene with environmental elements such as rocky terrain, moon and colorful planets illuminating the night sky. Available for download as 1920x1080 px JPG image and Photoshop PSD file.
You can use this landscape background in websites, games, apps or any space themed design. It can even be used as a wallpaper for your desktop and mobile devices.
Features
Format: JPG & PSD
Dimension: 1920×1080 px
Resolution: 72 PPI
Space Background Illustration
Flat Design
Editable Vector Shapes in PSD file
Compatibility
JPG files are common image formats that are widely supported in all kinds of image editing software, including Photoshop, Illustrator, Affinity, and online picture editors.
Space background illustration is also provided in PSD format to enable you to see the layer structure in Adobe Photoshop. You can move around the objects, change color and background from within the Photoshop file. You can see the layers in the preview image below.
Preview
Below you can preview the background PSD file opened in Photoshop. All the objects such as planets, clouds, rocks, and moon are made up of vector shapes and are placed in separate folders that can be easily moved, rotated and re-positioned.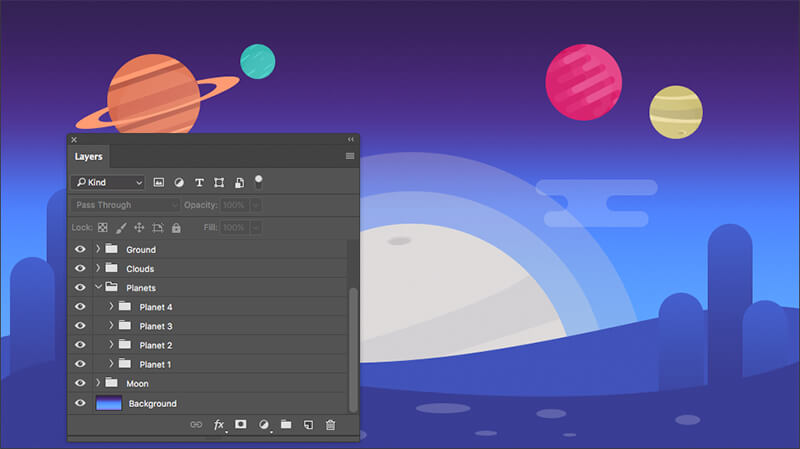 Organized layers and groups in Photoshop